1
17/08/2018 by socialistfight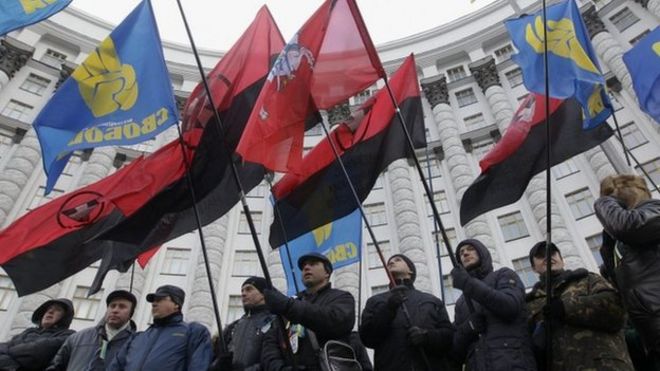 Flags of fascist and far-right Svoboda and UPA outside Parliament in Kiev
On Congress's insistence, Russia's so-called annexation of Crimea and funding of the so-called "terrorist separatists" in the Donbass is another military flashpoint. NATO has been conducting provocative war exercises in all countries bordering Russia and beefing up deployments of US and UK troop and armaments there. Russia has been obliged to respond in kind. On Christmas day 2017 Kremlin Spokesman Dmitry Peskov announced that Moscow has made no decision concerning the supply of defensive weapons to the Donetsk and Lugansk People's Republics in the wake of Washington's decision to approve lethal arms supplies to Kiev.
On December 22, US Department of State Spokesperson Heather Nauert said that Washington had decided to provide Ukraine with "enhanced defensive capabilities as part of our effort to help Ukraine build its long-term defence capacity, to defend its sovereignty and territorial integrity, and to deter further aggression."
US Congressmen and Senators, both Republicans and Democrats alike regularly vote to supply Kiev with military assistance US defense budgets. Putin desperately seeks to appease the warmongers by denying necessary air defence weapons to the Donbas republics.
"'There was heroism and cruelty on both sides': the truth behind one of Ukraine's deadliest days" was the truly ridiculously lying headline by the Guardian on the Odessa massacre.
The Odessa massacre took place on May 2, 2014. Ukrainian Maidan nationalists and Nazis were brought to that city by buses to stop the anti-government protests. They murdered at least 46 protesters in the Odessa Trade-Union House, either burnt them alive or clubbed them to death when they jumped from the windows to escape the fire, they hanged a pregnant woman cleaner and the whole fascist mob cheered when her death screams ended, and the murderer appeared at the window to celebrate. The Kiev government refused to investigate the case and concentrates on arresting and harassing the surviving protesters and their relatives. More than any other event this signalled to those in the Donbass that they had to defend themselves against these fascist thugs by any means necessary. And that is why Ben Stimson went to the Donbass to fight. He is a heroic anti-fascist fighter and the left and every principled anti-fascist should have attended his trial and should now support him in every way possible.
"… Bandera's lieutenants … promised to work closely with Hitler, then helped to launch a pogrom that killed four thousand Lvov Jews in a few days, using weapons ranging from guns to metal poles. . … After the war Bandera lived in Munich. British intelligence used him to help run agents into Ukraine to gather intelligence and to help the Ukrainian underground against the Soviets. The CIA used some of Bandera's former cronies for similar reasons …"
In fact, "the legitimate government of Ukraine" is the only government in the world to honour as a national hero a Nazi collaborator, Stepan Bandera, who slaughtered thousands of Jews and Poles on his own behalf and for Hitler. Ukraine President Poroshenko has repeatedly praised the Ukrainian Insurgent Army (UPA) for fighting for Ukrainian independence and its "heroism," has made the anniversary of the foundation of UPA a national holiday, 1st January. The Ukrainian parliament has ratified a bill that criminalizes criticizing UPA.
Filip Mazurczak, in his July 2016 article The Volhynia Genocide and Polish-Ukrainian Reconciliation, tells us that: "Those who claim that Ukraine needs Stepan Bandera and UPA to have a strong identity are ignorant of Ukrainian history". He goes on:
As a response (to Polish oppression of ethnic Ukrainians in Poland), in 1929 the Organization of Ukrainian Nationalists (OUN) was formed. It engaged in terrorism, such as the assassination of the Polish minister Bronisław Pieracki in 1934. OUN was influenced by the fascist ideology of Dmytro Dontsov, who sought to violently establish an ethnically homogenous Ukrainian state. The OUN had two factions, a more moderate one led by Andriy Melnyk, and a genocidal one led by Stepan Bandera.
In 1939, Western Poland was invaded by Nazi Germany and the Soviet Union. Ukrainian nationalists rejoiced, and in 1940 the Bandera faction of the OUN formed the Ukrainian Insurgent Army (UPA). In 1943, UPA sought to exterminate all non-Ukrainians in Western Ukraine. They were above all Poles, but also Jews, Armenians, and other minorities, as well as anti-nationalist Ukrainians. Upwards of 100,000 civilians were murdered. UPA's methods were sadistic; pregnant women stabbed with bayonets in the belly and children forced to drink their murdered parents' blood were commonplace.
After Western Ukraine was annexed by the USSR, Stalin threw UPA members into the gulags, where, as Aleksandr Solzhenitsyn wrote, they led rebellions. Since Ukraine became independent in 1991, it has been divided on this matter. In the eastern half of the country, the UPA and Bandera are overwhelmingly considered to be fascist scum. In the west, however, many see them as heroes.
A slogan put forth by the Bandera group and recorded in Einsatzgruppen report of July 16, 1941, stated: "Long live Ukraine without Jews, Poles and Germans; Poles behind the river San, Germans to Berlin, and Jews to the gallows". A Banderist statement said: "The Jews of the Soviet Union are the most loyal supporters of the Bolshevik Regime and the vanguard of Muscovite imperialism in the Ukraine." When the Nazis invaded the USSR in June 1941 and captured the East Galician capital of Lvov, Bandera's lieutenants issued a declaration of independence in his name. They further promised to work closely with Hitler, helped to launch a pogrom that killed four thousand Lvov Jews in a few days, using weapons ranging from guns to metal poles. "We will lay your heads at Hitler's feet," a Banderist pamphlet proclaimed to Ukrainian Jews.
Munich, Germany. 25th Nov 2013. Director of the Simon Wiesenthal Center office in Jerusalem, Effraim Zuroff, stands next to a campaign poster in Munich, Germany, 25 November 2013. The poster campaign under the motto 'Late! But not too late!' is supposed to continue in eight cities after successful runs in Berlin, Hamburg and Cologne. Photo: TOBIAS HASE/dpa/Alamy Live News
Efraim Zuroff, director of the Simon Wiesenthal Center office in Jerusalem. 
Sam Sokol reported in the Jerusalem Post on 18 January 2016 that when the US had decided to fund the Azov Battalion, the modern-day Banderist fascists, Britain quickly followed suit and this enraged the Simon Wiesenthal Center, which had successfully blocked the Battalion from holding a recruitment meeting in Nantes, France, just prior. Efraim Zuroff, head of the Wiesenthal Center in Jerusalem said:
"This step is hardly surprising to anyone who has been following the growing danger of Holocaust distortion in post-Communist Europe, and especially in the Baltics, Ukraine and Hungary. In recent years, the United States has purposely ignored the glorification of Nazi collaborators, the granting of financial benefits to those who fought alongside the Nazis, and the systematic promotion of the canard of equivalency between Communist and Nazi crimes by these countries because of various political interests."
However far right Zionists like the Vaad of Ukraine, a Jewish communal body favoured the move, as did Israel itself. Vyacheslav A. Likhachev, speaking on behalf of the Vaad said:
"I appreciate this decision. It must be clearly understood: there is no kind of 'neo-Nazi Ukrainian militia' now. Azov is a regular military unit subordinate to the Ministry of Internal Affairs. It is not irregular division neither a political group. Its commanders and fighters might have personal political views as individuals, but as an armed police unit Azov is a part of the system of the Ukrainian defence forces, Russian aggression is a much bigger threat than Azov, it is necessary to clearly distinguish between the Azov regiment and political projects related to its former commander (Stephan Banders – SF)."
So even in the Ukraine, there are the Zionist like Jonathan Arkush who excuse the Nazis and point to a bigger enemy. Not many in the Ukraine want to make such a spurious distinction. Jews now as then are differentiated not only as pro and anti-Nazi but politically more importantly as leftist working-class poor and wealthy rightist Zionists. "Of course, manifestations of neo-Nazism in Ukraine are unacceptable", Likhachev hypocritically says. "But it has nothing to do with the question of assistance to the Ukrainian armed forces." – Really??
Jonathan Arkush speaks to JDL fascists (in tee shirts with yellow stars) at front – Roberta Young and Robert de Jonge – Zionism"s Orwellian placards 'Peace not Hate' defend military occupation and Jewish settlements –  this is at 3 July 2016 demonstration