Leave a comment
22/12/2016 by socialistfight
Signed:  Gerry Downing Secretary, Jerry Hicks Chair, Ian Scott Treasurer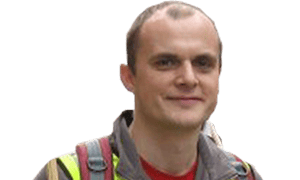 Workers must stand together – free trade is the problem, not free movement,
On Thursday 15 December Ian Allinson declared his candidature for Unite General Secretary. The Grass Roots Left declares its unconditional support for Ian because he is the only rank and file candidate. Having supported Jerry Hicks when he stood on a rank and file platform in 2010 and 2013 we are absolutely certain that only a candidate who stands for the membership should be supported, he is the "grass roots socialist challenge" in his own words. Moreover, he is the only workplace-based candidate who holds a very important union office as his declaration says:
"I've been a workplace activist for 25 years at Fujitsu, building up the union in a largely un-organised industry. I led the first national strike in my industry in 2009-10. For ten years, I served on the union's executive before stepping down in 2014. I'm chair of Unite's UK combine in Fujitsu, where my own workplace is currently in dispute and taking strike action over pay, pensions and job security. Nationally we're fighting against job cuts from automation and offshoring."
It was very heartening to see Jeremy Corbyn elected as Labour leader for the second time against the machinations of the coup plotters but the essence of both Corbyn surges in 2015 and 2016 was anti-austerity. And unless we begin to deliver on that the great danger is that this movement, which has taken the Labour party membership to some 650,000, the highest since the early 1950s, will become demoralised and die. And that is why Ian's candidature comes at just the right time and, as he is located in a militant workplace, which supplies that vital missing ingredient; class struggle militancy to complement the political advances in the Labour party. Without both wings of the labour movement fighting together we cannot begin to turn the tide against austerity. Neither wing can succeed on its own.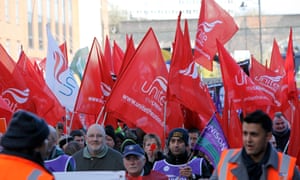 Public sector workers march in Birmingham in 2011: 'We, Unite's membership, like the working class as a whole, come from all over the world. This is a strength, not a weakness.' Photograph: Alamy Stock Photo
As Ian says.
"Despite some progress during Len McCluskey's time as General Secretary, our union is still falling far short of an adequate response to the onslaught members are facing from government, local authorities and employers."
Moreover, on the day following Ian's declaration, 16 December, McCluskey wrote a piece in The Huffington Post which was a massive capitulation to the Tories, to New Labour and their right wing candidate, Gerrard Coyne: "Unions understand that workers have always done best when the labour supply is controlled and communities are stable. While we must reject any form of racism, and help refugees fleeing war, we must also listen to the concerns of working people. They understand that the free movement of labour means downward pressure on wages, in some sectors at least."
It is no coincidence that on that very same day, 16 December, The Guardian carried a piece by Andy Burnham saying the same thing:
 "But the test will be whether the changes to free movement meet public concerns. We need to be ready to re-examine long-held positions. Somewhere along the way, the European left became the champion of an unfettered, free market approach to the movement of goods, capital and people. We failed to see the impact of these policies on people who had suffered the effects of deindustrialisation, and on widening inequality."
As Ian points out these policies are a direct attack on Corby's position:
 "Following the Brexit vote Len McCluskey's backsliding on free movement of workers is not good enough. Workers have sometimes responded to setbacks or defeats by claiming some privileged access to jobs, housing etc. and sought to exclude others – often on the basis of gender, race or nationality. Sometimes this works for some people for a short time, which is why this response can seem tempting. But it is misguided. Our ability to secure decent jobs and housing depends on our unity. As soon as workers slip into trying to protect their interests at the expense of other workers, that unity is undermined and we all lose out. You can't argue to end free movement of labour without accepting that migration is a problem, and you can't see migration as a problem and consistently build a united workforce – including the many migrants who live and work here.

As Jeremy Corbyn put it:

"It isn't migrants that drive down wages, it's exploitative employers and the politicians who deregulate the labour market and rip up trade union rights. It isn't migrants who put a strain on our NHS, it only keeps going because of the migrant nurses and doctors who come here filling the gaps left by politicians who have failed to invest in training. It isn't migrants that have caused a housing crisis; it's a Tory government that has failed to build homes".
It is common knowledge that it was Unite's Executive that thwarted McCluskey's attempt to back Burnham and not Corbyn. As Ian says in a comment below his declaration: "I was supporting Corbyn while McCluskey was still dithering around supporting Burnham."
On every other issue too Ian takes the rank and file position of the backing the interests of the whole working class and not just a temporary mood of a section on import control or Trident jobs which would be great damage to the long-term unity of the whole class in Britain and internationally. He stands closest to the Grass Roots Left in all aspects of his platform.
The GRL stands on:
No to Trident and other 'vanity' projects, spend that money on the health service and protecting worker's wages and the welfare state, and converting arms industry jobs into providing specialist equipment for people with disabilities and meeting other needs of workers challenged in a special way.   A workers radio station with international links.
All unions officials to be elected by the members they represent and not appointed from above.
TU officials should be paid no more than the average wage of the skilled workers they represent; Ian says "If elected, I wouldn't take the current six-figure salary for General Secretary, I would stay on my current wage." In June 2014 the Telegraph reported McCluskey had got a 3.7% pay rise: "It takes Mr McCluskey's total pay and pension packet – drawn from members' subscriptions – to £140,281, up from £135,211 last year."   (Wages that make a Trade Union leader a millionaire in 7 years & 5 weeks is deliberately cutting him/herself off from the working class)
Oppose all immigration controls; workers of the world unite!
End the blacklisting of construction and all other militant workers by the bosses' organisations.
For the massive programme of council house buildings – end the 'right to buy' to preserve cheap, affordable social housing with rents determined by the tenant's income and not market forces.
For rank and file control over all negotiations and industrial action through mass meetings and elected strike committees
For militant action, strikes and occupations, to stop all cuts – with the backing of the officials when possible, without them where necessary
For defiance of the anti-union laws, wherever they are invoked to prevent workers' action, for solidarity strike action with any group of workers or union that is prosecuted under these undemocratic laws
For the right of the rank and file to veto all management decisions and workers' control over all aspects of production, including hiring and firing, for workers' control over and nationalisation without compensation of all firms sacking workers in the interests of profit
For a mass unionisation drive, drawing migrant workers, casual, part-time, low-paid workers and the unemployed into the trade unions
For the right of all women, black, lesbian, gay, transgender, and disabled workers to caucus in the trade unions and voice their own demands, against any discrimination at work, fascists out of the unions
For a rank and file movement, rooted in the workplaces, across Unite and the whole trade union movement, for cross-European rank and file organisation, for industrial unionism and the democratisation of the labour movement
On the international front we will oppose UK government support for USA imperialism & its proxy wars to create a uni-polar world
As Ian says:
"Members don't want the clock turning back with Coyne, but neither can we keep waiting for effective resistance from McCluskey. I don't have the resources of the establishment candidates. If you want to see a grass roots socialist challenge, then don't just sit back and wait. It is always member activity that produces change, and this election is no different. Please get involved. If you want to get involved in the campaign, or want materials or a speaker for a workplace or branch nomination meeting, please enter your details here. You can also email ian4unite@gmail.com and donate towards the cost of the campaign via https://donorbox.org/ian4unite  I have run a blog about Unite for a number of years: www.iansunitesite.org.uk" and the new campaign web site is www.ian4unite.org.