7
21/12/2017 by socialistfight

On March 22 2016 Tony Greenstein issued the following statement:
Dear All,

I have just received a letter from the Labour Party informing me I have been suspended on the basis of comments I am alleged to have made.

Naturally no indication has been given to me as to what these comments might consist of or indeed who made the allegation.

I can only assume, in the current climate of media engineered hysteria over 'anti-Semitism' in the Labour Party and amongst Corbyn supporters, that it is related to this.  I can think of no other reason.

If this is the case what is involved is a witch hunt of anti-Zionists using the cover of anti-Semitism since even the Zionist Board of Deputies of British Jews (BOD) and other Zionists have acknowledged my role in combatting Gilad Atzmon, a notorious anti-Semite who used to be associated with the Palestine solidarity movement.

The particular Labour Party bureaucrat responsible for this is one John Stolliday who can be contacted on legal_querie3s@labour.org.uk

Tony Greenstein
So when he is under attack his immediate response was to plead to the "Zionist Board of Deputies of British Jews (BOD) and other Zionists" to defend him because he has given them Gilad Atzmon's head on a plate and they should reciprocate the favour.  His postings are almost entirely devoted to Zionism and anti-Semitism and his narrow focus strays outside that very infrequently, as you will see if you follow the link below. Socialist Fight, the current target of his witch hunt, opposes imperialism in all its manifestations in every major conflict. We are particularly focused on opposition to British imperialism in Ireland; every one of the 25 issues of our magazine so far has carried a list of the Irish Republican Prisoners and defended their right to oppose the British occupation of the north of Ireland. No other left group in Britain, apart from the Revolutionary Communist Group, pays such attention to Britain's oldest colony and the touchstone for the anti-imperialism of every British socialist. Few make the grade now.
We have stood in the forefront of the opposition to the imperialist attacks on Libya in 2011 and never gave any credence to the 'Benghazi rebels' and their bogus CIA sponsored 'revolution'. Likewise with Syria and Iraq and Ukraine etc. The majority of the rest of the left disgraced themselves in supporting the war aims of their own and US imperialism.
Tony Greenstein has no such record. He was appalled at Gerry Downing's defence of the third world victims of US imperialism; it was the chickens coming home to roost. Tony Blair himself admitted that there would never have been an ISIS if he and George Bush had not invaded Iraq in 2003 using the false claims about weapons of mass destruction. The war criminals did not draw Tony Greenstein's ire in his article on it in the Weekly Worker but that Downing had not capitulated to the pressure of the imperialist politicians and mass media in Britain.
http://azvsas.blogspot.co.uk/2017/12/we-are-all-ahed-tamimi-free-ahed-16.html
Being in Reading in Time – Sun 22 Oct, 7.30 PM Risc, 35-39 London Street, Reading, RG1 4PS
By Gilad Atzmon
I learned from the Jewish Chronicle today that Berkshire Jews are "horrified" because yours truly has "challenged Holocaust denial legislation." What caused the present outbreak of Pre Traumatic Stress? Apparently, my Sunday book launch at the Reading International Festival.
First, I am sorry to hear that my questioning of Jewish identity politics and culture have created a state of Jewish collective horror. I would be pleased if any Berkshire Jews would bravely dare to attend my talk on Sunday, they may discover that they agree with most of my observations.
But what is it in my new book Being in Time – A Post Political Manifesto that inflicts 'horror' on Berkshire Jews and other Jewish institutions? No one knows. The book has been well-reviewed, and no one has yet found any factual mistakes or a methodological flaws in the text. If they want to burn it then you certainly want to own a copy.
In the last few days, British Jewish institutions have used every trick in the Hasbara book in an attempt to cancel my coming talk.  The notorious CAA (whom Tony Greenstein is correctly attempting to get struck off as a charity – GD) and the ultra Zionist Board of Deputies of British Jews mounted pressure on the venue, they contacted the local council, they harassed local politicians; they even attempted to recruit 'LGBT activists' who were asked to pursue the venue.
The Jewish Chronicle reports that Rabbi Zvi Solomons of the Jewish Community of Berkshire said that Mr Atzmon is "a notorious antisemite. He has promoted Holocaust denial, compared Israelis to the Nazis." Other political organizations have taken the accusations against me seriously. They have carefully examined the matter and have found that the claims levelled against me are baseless, malicious and often duplicitous.
The Rabbi wrote, "The event organisers did not seem concerned that they were going to be providing a platform to a known peddler of hatred."  I believe that the Rabbi should accept that outside of his congregation, criticism of ID politics, and Jewish culture are considered a legitimate intellectual and ethical adventure. Further, I have been writing on Jewish and Zionist matters for 20 years, and in spite of the strict anti hate legislation in the UK and other countries, I have never been questioned by a single law enforcement body about any of my writings or public speeches, neither here in Britain nor anywhere else around the world.
The Rabbi said, "They are giving a platform to someone who is lauded by white supremacists. Surely that is not the intention of a venue like that."
There is an element of truth there. My work has been praised by a wide spectrum of intellectuals: Right, Left and Centre (see here and here). One explanation is that I am dealing with meta-political issues. Rather than advocating a political standpoint, I attempt to offer a method to engage in ethical discussions within a critical philosophical framework.
Jonathan Arkush, the president of the Board of Deputies, said no "reputable event should feature Gilad Atzmon." He reiterated that the Board was "extremely concerned that the Solidarity Centre and the festival organisers appear happy to host someone with such a track record for openly racist views."
The one thing, neither Arkush, Rabbi Solomons nor any other detractor of mine has ever managed to do is to point at a single critical reference to race or biology in my entire body of work. I do not criticise people, I dissect culture and politics and dig into their meaning.
The Jewish Chronicle reports that a small number of congregants from Rabbi Solomons' 50-strong community plan to hold a protest vigil if the event goes ahead. Two weeks ago, I encountered a similar vigil in Berkeley, California. The event organiser was able to persuade the entire Zionist group to attend the talk. At the end of the talk, some of the Zionists admitted to the organiser that they were persuaded by my argument and were impressed by my delivery. I am looking forward to meeting the Rabbi and his followers. I will, of course, invite them to join the peace lovers inside the Reading International Solidarity building.
http://www.gilad.co.uk/writings/2017/10/21/atzmon-once-again
Rosa Doherty, December 20, 2017
Protest held at 'disgusting' antisemite Gilad Atzmon's Reading cultural festival appearance
Jonathan Arkush, the president of the Board of Deputies, said no "reputable event should feature Gilad Atzmon". More than 30 people staged a protest over the appearance of an antisemitic author at a cultural festival.
Gilad Atzmon, an Israeli jazz musician and writer who has challenged Holocaust denial legislation, gave a talk at the Reading International Solidarity Centre on Sunday. Congregants from the Jewish Community of Berkshire and members of Reading's LGBT+ community held a protest outside the event and were joined by Rachel Eden, a Labour councillor, who organised the demonstration.
She was joined by councillors Daya Pal Singh, Richard Davies, and Sophia James.  Rabbi Zvi Solomons said the Jewish community was "horrified" by Mr Atzmon's appearance and "gravely disappointed that it went ahead despite attempts to have it cancelled". He described Mr Atzmon as "a notorious antisemite. He has promoted Holocaust denial, compared Israelis to the Nazis.
"He is not the sort of person any liberal outfit should want to be connected to." Rabbi Solomons had contacted Reading Borough Council leader Jo Lovelock to express his concern ahead of the event. However the council chose to distance itself from the event claiming it was not responsible for what happened.
In a statement a spokesperson said: "We passed on those concerns directly to the Reading International Development Forum, who were responsible for co-ordinating the Reading International Festival. "There is no council funding related to the organisation of this event. The council has no role in the organisation or co-ordination of the event."
Rabbi Solomons said: "The council's logo was all over the programme. I believe in making a neutral statement it has abdicated responsibility. "How can any minority expect to feel safe in the face of such avoidance?" "He should never have been allowed to speak at an event or in a building that promotes the message of solidarity."
Rabbi Solomons' son, Gavriel attended the protest. The 16-year-old said: "Gilad Atzmon tried to talk to people to convince them of his views but we did not want to listen. "We handed out leaflets about antisemitism. I was there to show we were united against a disgusting man."
Jonathan Arkush, the president of the Board of Deputies, said no "reputable event should feature Gilad Atzmon". He said the Board was "extremely concerned that the Solidarity Centre and the festival organisers appeared happy to host someone with such a track record for openly racist views." Mr Arkush pointed out "Atzmon's appearance at events is routinely cancelled when organisers learn about his views and track record".
The centre and Reading Friends of Palestine were unavailable for comment.
Rosa Doherty, Jewish Chronicle December 20, 2017, https://www.thejc.com/news/uk-news/protest-held-at-disgusting-antisemite-gilad-atzmon-s-reading-cultural-festival-appearance-1.446465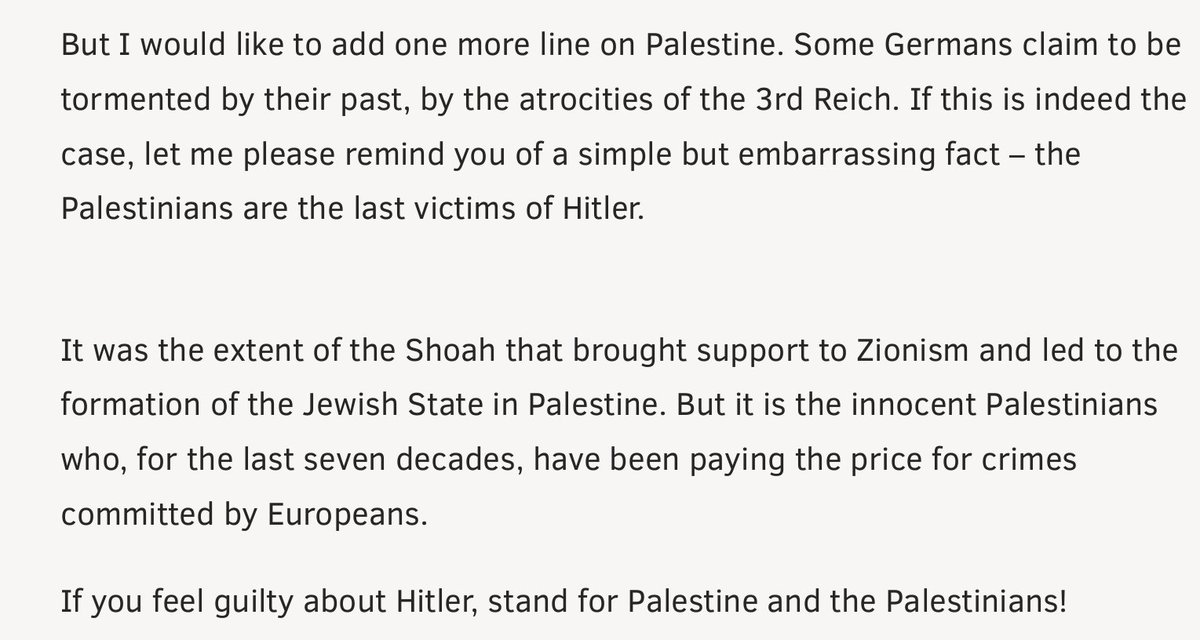 Gilad Atzmon, who wrote the above,  is now slated as an antisemite on guilt-by-association witchhunt methods
GA: The ultra Zionist Jewish Chronicle allowed a single voice of reason into its letters page this weekend.
https://www.thejc.com/comment/letters/letters-17th-november-1.448327
Misjudgment
In a rather belated response to Rosa Doherty's article of October 24, concerning a public appearance of Gilad Atzmon, I would like to take issue with certain comments reported therein.
Rabbi Zvi Solomons is quoted as calling Mr  Atzmon "a notorious antisemite", and says that "he has promoted Holocaust denial, compared Israelis to the Nazis" and  Jonathan Arkush, President of the Board of Deputies, holds that no "reputable event should feature Gilad Atzmon", opinions I respectfully but vigorously disagree with.
Firstly, is  Mr. Atzmon truly an antisemite? An antisemite as defined by who, and by what criteria? Should we not apply ourselves to these questions before we brand anyone with such a grave charge, however objectionable (nay, offensive!) their opinions be? As far as I know, and I may be wrong, Mr Atzmon has never denied that the Holocaust happened but rather has opposed laws which seek to prohibit its denial; and did Mr Atzmon really compare all Israelis to Nazis, or is his clumsy and admittedly provocative critique of Israeli policies being taken as proof of something much more sinister?
Even were Mr Atzmon to confess himself as a most virulent antisemite, both tactically and on principle, the last thing we should do is seek to ban him from "reputable" public events; rather, we should welcome any and every opportunity to debate him and people with similar ideas, with facts and well-reasoned arguments that will show any fair-minded, rational person how ill-founded Mr Atzmon's discourse is.
And before anyone accuses me of being naive and unrealistic in adopting this response, I would counter that to silence or "shut him down" truly plays into genuine antisemites' hands (e.g.:" Look, the Zionists are trying to shut up honest dissenters again") and leaves a part of the intellectual field to them.
Robert Coleman
London W17 Atzmon Once Again